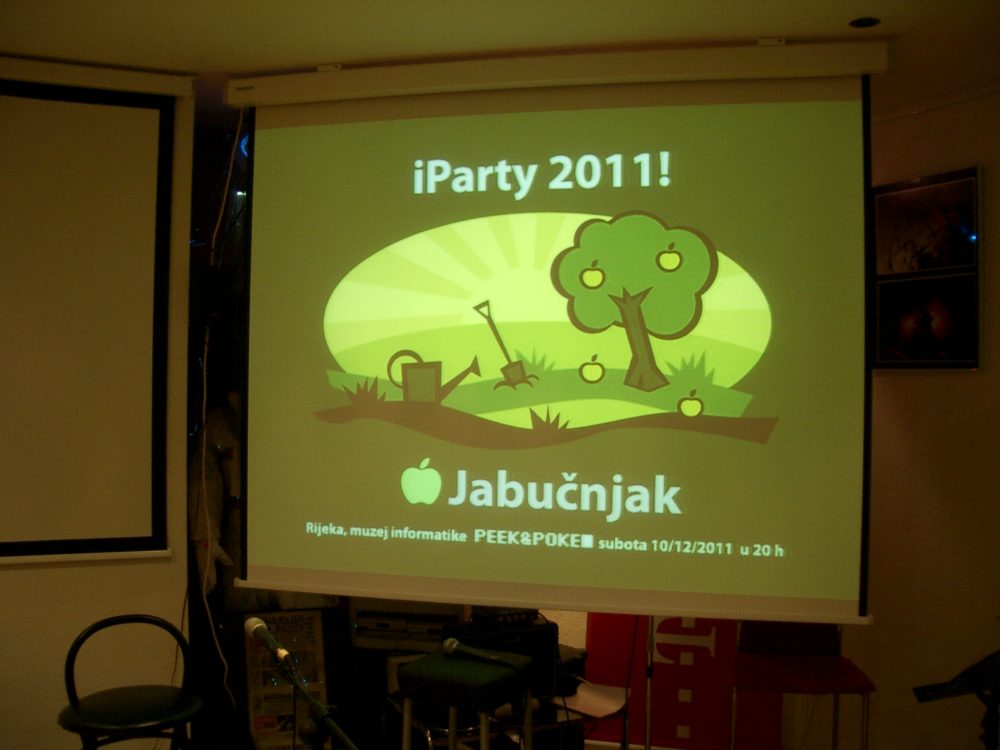 iParty 2011
The fourth iParty, a large gathering of Croatian Apple enthusiasts organised by Jabučnjak (Apple Orchard), will be held on Saturday, December 10, 2011, starting at 8 p.m. Traditionally, Apple enthusiasts are expected from all around Croatia.
We are giving the Children's Hospital Kantrida in Rijeka so please don't come without apples! We mean the real ones – from the tree! It has already become a custom that in the days before the iParty the entrance to the museum is "paid" with 4 kg of apples! The collected apples will be donated to the Kantrida Children's Hospital, as in previous years. In the first year of the action, we collected 300 kg, in the second over 700, and now we expect much more! We know that this is just a symbolic gesture, but as both Jabučnjak and PEEK&POKE projects are driven only by enthusiasm and volunteer work, we believe that it is important to show good will. Also, our action was joined by Playstation Croatia, which will donate PlayStation 3 with games to Kantrida Children's Hospital.
This year's iParty 2011 is dedicated to "Photonostalgia" – the program of our museum in which the best original photo with a retro-technological motif is chosen. The selection will be accompanied by the words of a young professor and doctor of science, winner of the "Kiklop" literary award, Igor Duda.
Moreover, we have prepared a series of short and dynamic presentations for this year. The team of Jabučnjak's editorial board plans the following topics: "Diagnosing and troubleshooting" by Tomislav Ribičić, "Software: Apple Keynote" by Emil Prpić, "Choosing the Apple hardware" by Davor Pasarić and "AppleScript" by Goran Paulin.
After the presentation, we'll have an interesting round table, an open pro et contra discussion on the topic of cloud computing. Are we all moving into the "cloud"? Is that good or bad? Are we turning into a "Matrix" society? Will networking the minds of thousands of people in near real time lead to a new collective consciousness? These are just some of the possible questions open for discussion. Get involved and suggest your questions!
Bite an apple and come to the iParty!