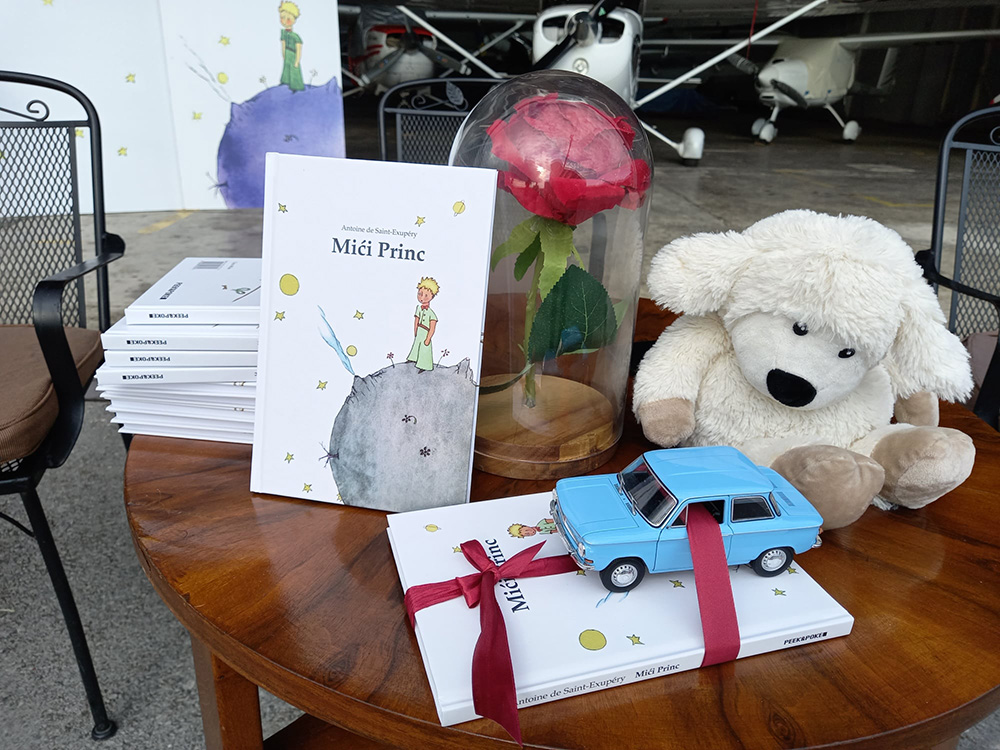 "Mići Princ" – edition of The Little Prince in the Chakavian dialect – book presentation
The idea for the Chakavian adaptation of the cult book The Little Prince originated during the pandemic lockdown. The book will be presented at Grobnik Airport in the week of the great writer's birthday, June 29, 1900. As Antoine de Saint-Exupéry was a pilot of the French Air Force, the promotion of the "Mići Princ" will take place in front of airplanes as a homage to this great writer. The publishers of the book are PEEK&POKE and The Museum of Childhood.
As the book has many characters, each speaks one of the Chakavian dialects of the Croatian Littoral region. We thank to our lead translator Tea Perinčić and all other co-translators: Ilinka Babić, Jadranka Ajvaz, Vlasta Juretić, Ivana Marinčić, Marin Miš, Josip Fafanđel, Irena Grdinić, Davina Ivašić, Annamaria Grus, Maria Luisa Ivašić, Dino Marković, Vlado Simcich, Anica Pritchard, Tea Rosić and Glorija Fabijanić Jelović. Sanja Zubčić, PhD, proofread all the work. The interview with the translators and contributors will be moderated by Irena Grdinić.
The printing of the book was sponsored by the Primorje-Gorski Kotar County, numerous individuals and several companies. The proceeds from the sale are intended to finance the recording of the audio book "Mići Princ". The book can be purchased at PEEK&POKE at a price of 80 kuna.
Join us at the book promotion, take the opportunity to buy it at a promotional price, and after the presentation, enjoy the gourmet delicacies of the Aerosteak restaurant. See you at Grobnik!
"Neka mi dica oproste ča san ovu knjigu posvetiv jenimu velimu čoviku. Man za to jednu dobru skužu: on je najboji prijatej kiga man na svitu."