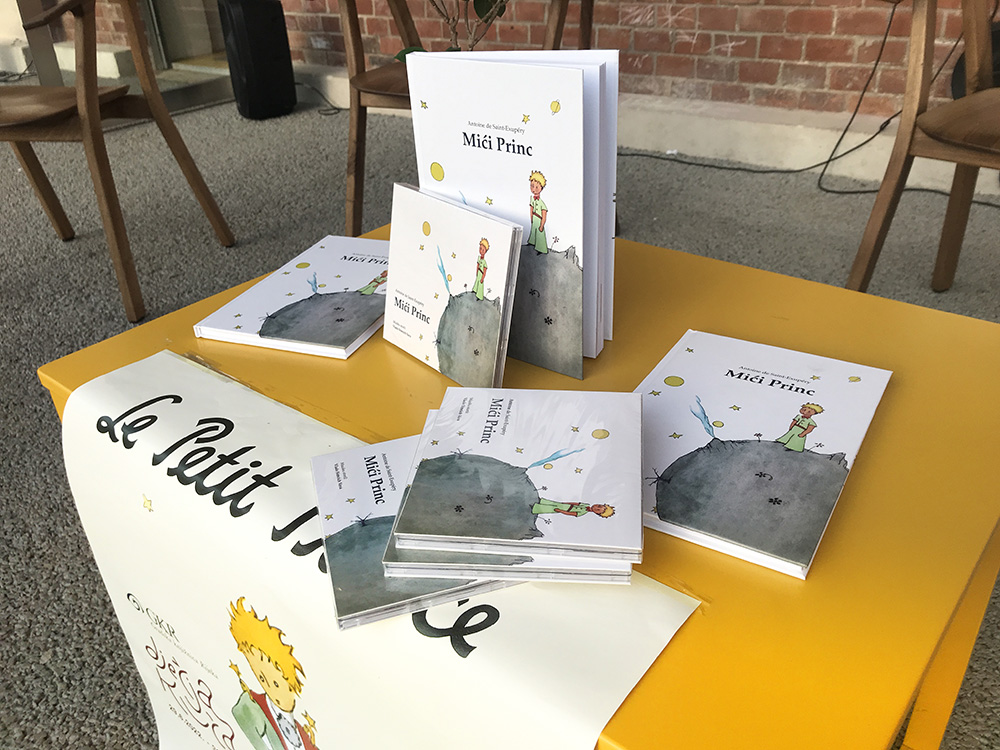 "Mići Princ" (The Little Prince) – audio book presentation and exhibition
The Museum of Childhood PEEK+POKE and the Children's House will present the audio book "Mići Princ" (The Little Prince) in the Chakavian dialect of the Croatian Littoral on June 29, 2022 at 8.00 p.m. in the Children's House in the Benčić art district.
The adaptation of the classic read The Little Prince was presented a year ago at the Grobnik airport. Now, one year later, as part of the Children's House "Tobogan" program, the CD edition of The Little Prince in Chakavian will be presented to the audience. At the same time, we also celebrate the birthday of the author of The Little Prince, Antoine St. Exupery.
Last summer, our "Mići Princ" in the Chakavian dialect joined the collection of 440 world languages ​​and dialects. Along with the edition in standard Croatian, The Little Prince was also published in 2018 in the Kajkavian dialect. This is the first audio edition in the local dialect.
A large team of contributors began the work on the audiobook in January: Ilinka Babić, Glorija Fabijanić Jelović, Irena Grdinić, Davina Ivašić, Ivana Marinčić. Iva Močibob, Tea Perinčić, Tea Rosić, Josip Fafanđel, Dino Marković, Zoran Prodanović Prlja, Vlado Simcich Vava (also author of the music and producer of the release), Albert Sirotich, Dražen Turina Šajeta, and Melita and Svetozar Nilović. The graphic design has been done by Dobriša Radovanović from Manufaktura. The CD can be purchased at PEEK&POKE at a price of 100 kn.
The project was supported by the City of Rijeka – Department of Culture, Department of Sports and Technical Culture, Primorje-Gorski County, Kreativni odjel d.o.o., Kabinet 13 d.o.o. and the Little Prince Jean-Marc Probst Foundation from Lausanne, Switzerland. In cooperation with the Little Prince Jean-Marc Probst foundation, an exhibition has been set up in the Children's House with hundreds of editions of the book and various artifacts related to the Little Prince.
The exhibition will last until September 29, 2022. Admission is free, and appropriate workshops and themed evenings will be organized.