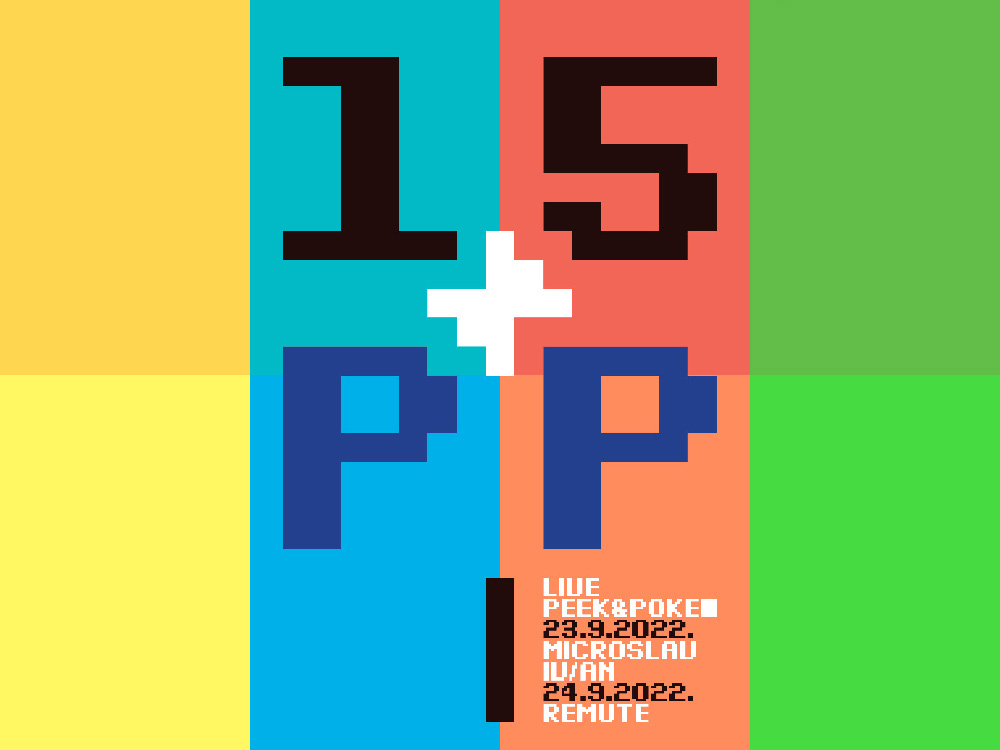 PEEK&POKE 15th birthday party
Fifteen years is a big anniversary for us. We did not expect that a modest volunteer project by a group of enthusiasts would survive the first year, let alone welcome the 15th anniversary with so many awards and recognition for our work. Most important of all are the thousands of satisfied visitors, primarily young people. We hope that a visit to our museum will inspire them to take the path of technology, mathematics, physics, and programming.
We will celebrate the years of continuous activity in a retro electronic rhythm: We invite you to our two-day mini festival. We promise the pinnacle of world 8-bit musical art – for the first time in Croatia!
Our dear friends are preparing their exclusive performances: Iv/An, Microslav and a special guest – world retro computer music attraction – Remute.
The festival on Friday, September 23 will be opened by Iv/An. He likes to say that his "musical career is a creative mess," and has been creating privately since the late nineties. He pays equal attention to both his music and graphic design, which is his profession. He is therefore also the visiting author of the 15th anniversary visual theme. The live performance will be his second appearance in Rijeka.
Iv/An is followed by our old friend and dear guest Microslav. From the first breakbeats on ProTracker and Amiga 600 during the nineties, through countless VST plugins on PC and FL Studio to a substantial collection of analog synthesizers and rhythm machines today, electronic sound is his constant inspiration. Microslav has released several EPs for Crobot Crew, Binalog Productions, Shameless Toady and Bass Agenda Records, which you will hear in a DJ set along with many as yet unreleased works.
On Saturday, September 24 the birthday celebration will culminate in a performance by a special guest from Hamburg – Remute. He enjoys the status of a music star in Japan, whose specialty is publishing his music on cartridge media for gaming consoles. Remute's songs range from ultra-catchy electro pop reminiscent of Yello, Kraftwerk or Yellow Magic Orchestra to sinister techno and house excursions beaming you right back to foggy 90s warehouse raves.
Remute is well-known for releasing his music on uncommon formats like the 3½ inch floppy disk. His album Limited was released in 2017 on a 7-inch Vinyl and 3½ inch floppy disk. This album received a huge media response. Remute's album Technoptimistic, released in 2019, is the first ever techno music album that got released on a Sega-Mega-Drive cartridge. In March 2020 Remute released the first music album on a Super NES cartridge – The Cult Of Remute. In March 2021 Remute released Electronic Lifestyle, the first music album on a HuCard for the PC-Engine and TurboGrafx16 game consoles shortly followed by Living Electronics in September 2021, an album for the Game Boy. In March 2022 Remute released 'R64' – the first ever music album released as a Nintendo 64 cartridge.
There are no tricks! This is not an embedded MP3-player, compressed WAV-files on a microSD-card or other cheating. As with all previous Remute cartridge albums, the sound gets generated and played back in real-time and it all happens within meager 8 Megabytes.
The program is co-financed by the Department of Culture of the City of Rijeka, and the partners in the implementation of the program are Distune promotion, Cyclorama Ltd. and Kreativni odjel Ltd.
A limited number of tickets are already on sale through the Entrio system, in the Dallas Music Shop Rijeka, and at the museum. The single ticket price is HRK 50.00/ €6.64, while for both days (festival) it is HRK 75.00/ €9.95.
You are here…
You are there…
Superposition anywhere!