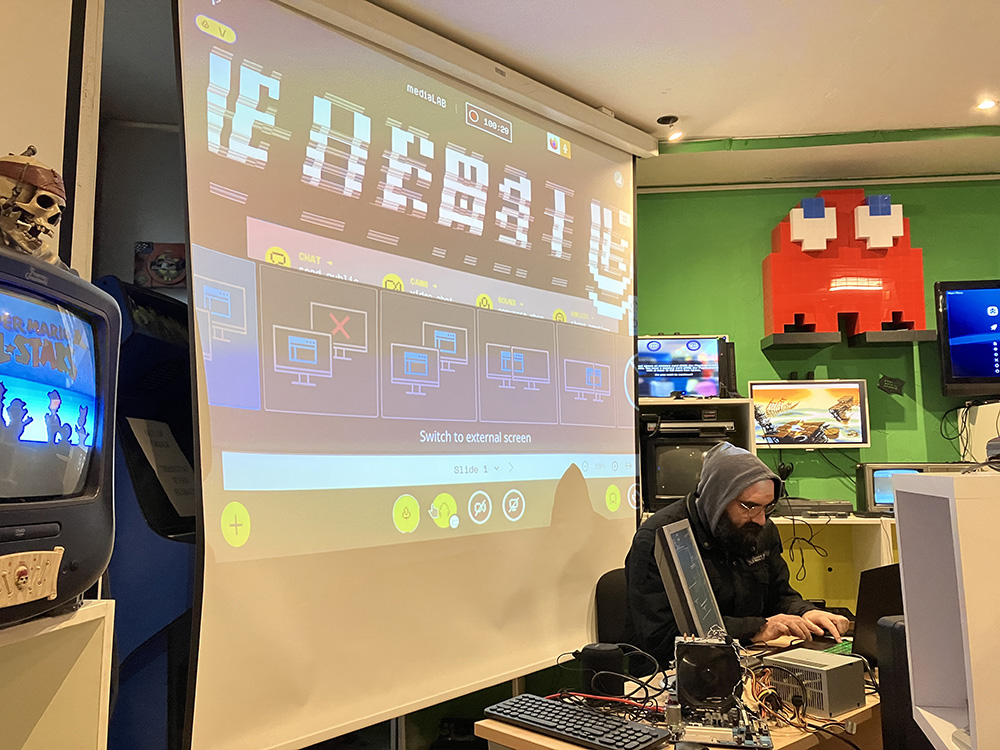 Sustainable Digital Art – production talks
SUDA (Sustainable Digital Art) is a current topic for contemporary media artists who use digital technologies. Our four guests will present the possibilities of creating and sharing interactive and scripted computer setup focused on free/libre software, open culture and reused hardware.
SUDA is a continuous project by the mediaLAB group, focused on variations of artistic server installations in regards to sustainability, ecology and ethics in digital art production. The group has been active since 2019 and has since created an open manifesto and an automated essay, proposed an autonomous solar workflow and a generative publication, is researching libre OS variations embedded within server sculptures, sharing its process via an open wiki and in a streamed BIOS performance (available online via hacklab01.org).
The topics will cover assembling the hardware, scripting the operating system, preparing for user interaction and presenting generative art in both a physical and a telepresent setting.
12.00 – 12.45 Vedran Gligo: Artistic server installation
A short demonstration of our SUDA computer. The session will present the hardware and its ethical implications, as well as structural contemplations that brought us to constructing a server sculpture (and what's in its near future). The session allows time to interact with the work and for visitor feedback.

13.00 – 13.45 Ian Keaveny: Desktop as a performance space
This talk will focus on the SUDA interface design as well as how it functions online and offline. It also covers how it can be extended as a basis for making desktop art, and as a performative space by means of feedback, scripting, etc. We will discuss using window managers such as TWM and CTWM with examples of the configuration files and how they work.

14.00 – 14.45 Hugo Baranger: Streaming generative audio
This presentation will focus on the MAPS (Mouse Audio Process Streaming) solution to creating and streaming generative sound compositions. Utilizing PureData the SUDA sound is synthesized from a database of human interactions with the machine so that the traces we leave during our digital travels (timing and position of clicks) are made audible.

15.00 – 15.45 Dina Karadžić: Basics of artistic network interfaces
This session will present how a simple SUDA web interface is constructed, why we chose to have the work shown online, as well as a short outline of various artistic approaches to the idea of the web interaction and the future of SUDA representation. After the introductory remarks, we will speculate on future critical web applications.
SUDA is created by the mediaLAB group via the Inquiry Inc. program by the Format C artist organization and the Hacklab01 project and presented at The Computer Museum PEEK&POKE.
The production is financially supported by the City of Rijeka and the City of Zagreb City Offices for Culture, the Ministry of Culture and Media of the Republic of Croatia and the Kultura Nova Foundation.
The sessions are free to attend and open to everyone interested but could be particularly useful to everyone involved with media art.